Valencia, here we come
The time has come, everything is ready, a fun long weekend full of good weather and a lot of free time ahead begins. From Gilsan Bus, we have proposed to take you to Valencia so that you can fully enjoy the "city of light, good paella and sweet oranges.
Get on the bus as we begin…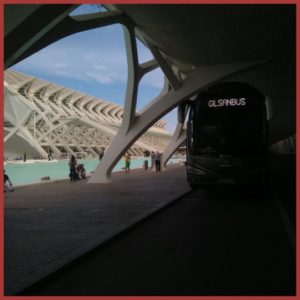 1.The City of Arts and Sciences
This year he celebrates his 20th birthday! An avant-garde and cultural architectural complex. Buildings, some of them created by the architect Santiago Calatrava, They do not leave anyone indifferent and shine like one of the most typical images of Valencia.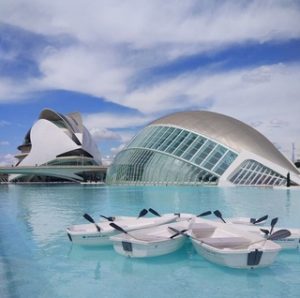 2. Cathedral
The Valencia Cathedral It is located in the Plaza de la Virgen, in the historic center of the city. Consecrated in 1238, the Cathedral is headquarters of Archbishopric of Valencia and is dedicated to James I the Conqueror. The Cathedral rises above the old Mosque of Balansiya since it was built to mark the territory of Christians against Muslims.
3. Town Hall Square
The Town Hall Square, previously known as Plaza del Caudillo, is point 0 of the City of Valencia. Famous for the fountain that is located there and that lights up at night and its light changes color. Also noteworthy are its flower stalls, which have become the true icons of the square.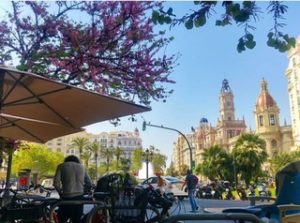 4. Serranos Towers
The Serranos Towers They are located in front of the Serranos Bridge whose antiquity is difficult to know. The name of Serranos is given, both to the bridge and to the towers, by its geographical location, since this gate located on the north façade of the city, collected the arrival of all those travelers coming from from the Serranía area, commonly called "the mountain people." The bridge connected and connects the city with one of the oldest neighborhoods. This gate has always been considered the main access to the city while it remained walled. The Serranos Towers They are one of the most important monuments, which remember the walled character of the city of Valencia in medieval times.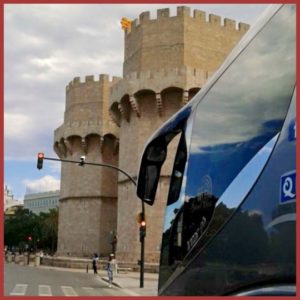 5.Paella
If Valencia is identified with something, it is with its spectacular Paella, and we know one of the best places to eat it. Is called Cinnamon and it is at Calle Quart 49. You will lick your fingers ;-P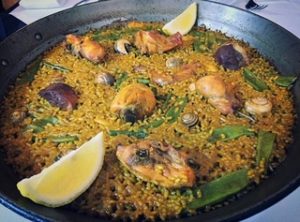 6. Beach
After an exhausting day there is time to discover its impressive beaches. Just a few minutes from the center you will find magical places such as Mallow-pink either El Cabanyal, where you can tan and rest.