Welcome to GilsanBus, the leading transportation company specialized in providing exceptional solutions for MICE events in Seville and beyond. With our passion for offering unforgettable travel experiences, we are dedicated to guaranteeing the success of your corporate events, conferences and trade fairs in Andalusia. From our extensive fleet of buses to our expert drivers, we offer comprehensive services tailored to your specific needs. Discover how GilsanBus can elevate your event transportation experience with our exceptional services and innovative technologies. Join us on this journey as we redefine MICE transportation in Seville.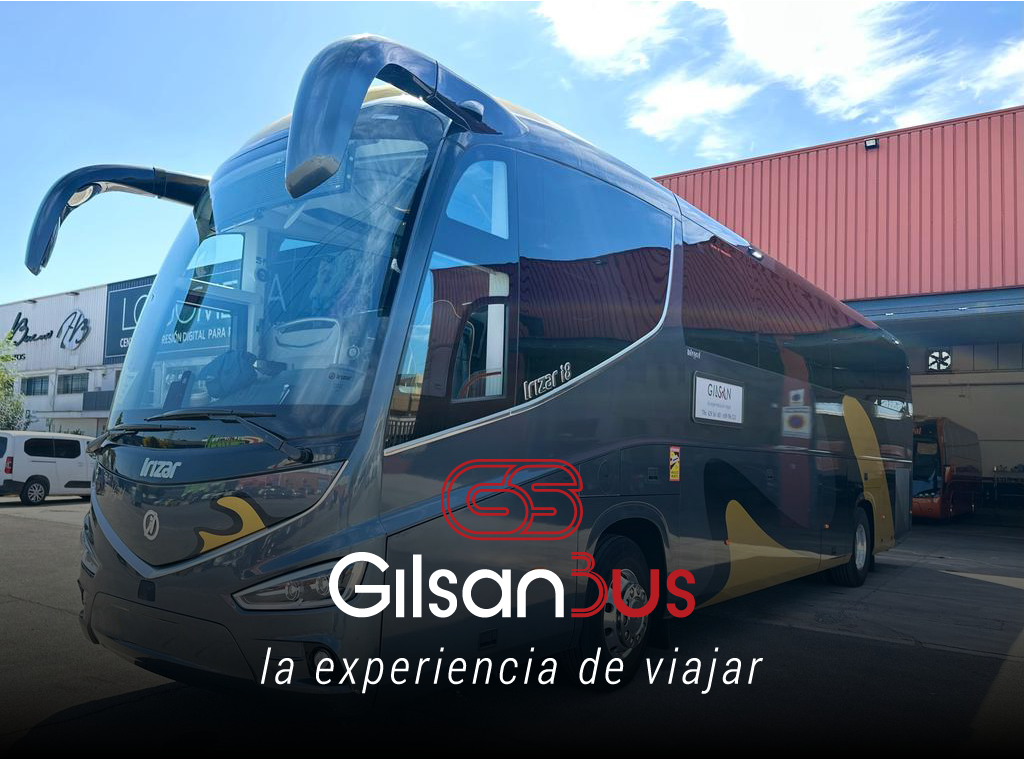 Welcome to GilsanBus
GilsanBus is your main source for effortless travel experiences in Andalusia and its surroundings. Our commitment to excellence is reflected in all aspects of our operation, from our comprehensive corporate solutions for events and conferences to our dedicated team of professional drivers. With their expert knowledge and unwavering commitment to customer satisfaction, you can rest assured that you will be in good hands throughout your journey. For unforgettable sightseeing excursions, trust GilsanBus, Raúl Gil's exclusive transportation service, to provide efficient and comfortable transportation at all times.
At GilsanBus, we specialize in providing stress-free event planning services for MICE events. Our deep understanding of the unique requirements and challenges that come with organizing successful events allows us to streamline the process and ensure a smooth and enjoyable experience from start to finish. From logistics management to on-site coordination, our team of experienced professionals is here to make planning your event a breeze.
For a truly exceptional travel experience in Andalusia, look no further than GilsanBus. Our fleet of modern and spacious buses is the perfect choice for sightseeing tours, group excursions and other cultural events. Relax and enjoy the ride as our experienced drivers navigate the streets of Seville and beyond, ensuring a comfortable and enjoyable trip for everyone. Let us help you create memories that will last a lifetime.
GilsanBus is passionate about providing exceptional transportation solutions for our valued customers. From corporate events and conferences to sightseeing excursions, we have the experience and resources to meet your needs with ease and efficiency. So sit back, relax and let us take care of your travel arrangements; you can trust that you are in good hands with GilsanBus.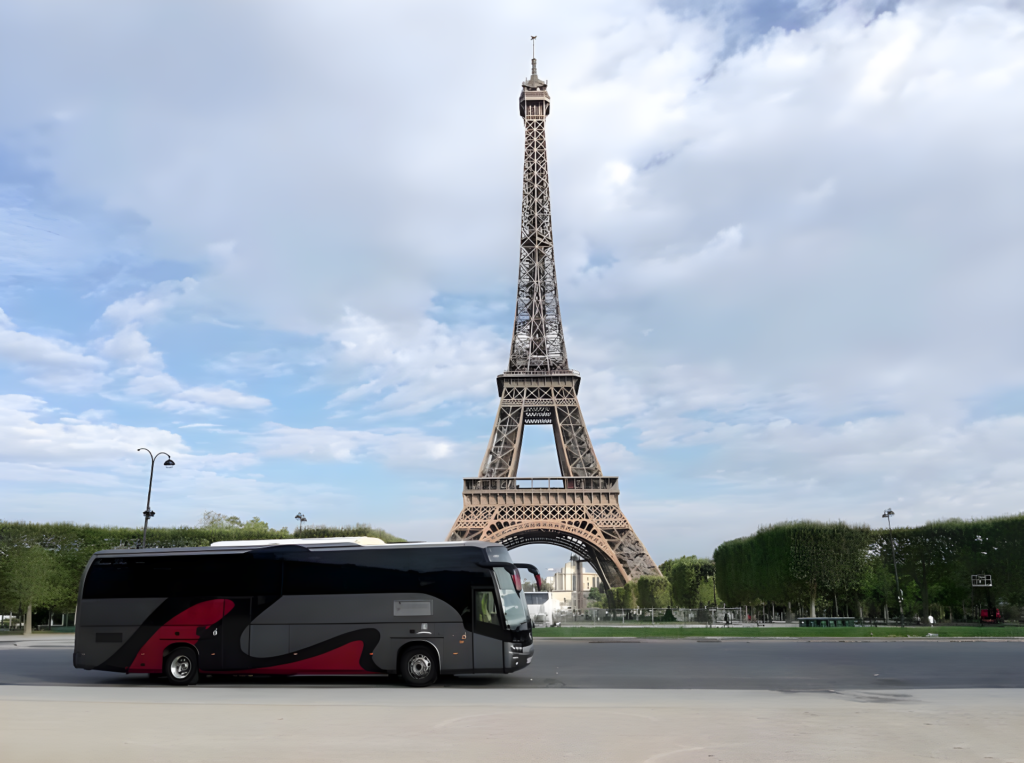 Our services
GilsanBus offers comprehensive solutions for MICE events, with years of experience in the transportation industry. Our dedicated team will work with you to create the perfect package that meets all your requirements. Our fleet of modern and reliable buses ensures a comfortable journey for all passengers, while our expert drivers provide professional and courteous service. With us, you can trust that all your transportation needs are covered.
At GilsanBus, we strive to provide a hassle-free experience for our customers. Our flexible scheduling options ensure availability whenever and wherever you need us. We understand the importance of providing reliable and efficient transportation for your event, and our team is committed to providing outstanding customer service. With GilsanBus, you can be sure that every trip will be memorable.
Trust the experience of Gil Romera and his team at GilsanBus to guarantee the success of your MICE event. We offer a variety of services to accommodate any size group, from intimate meetings to large conferences. Let us take care of all your transportation needs and make your event in Seville an unforgettable experience.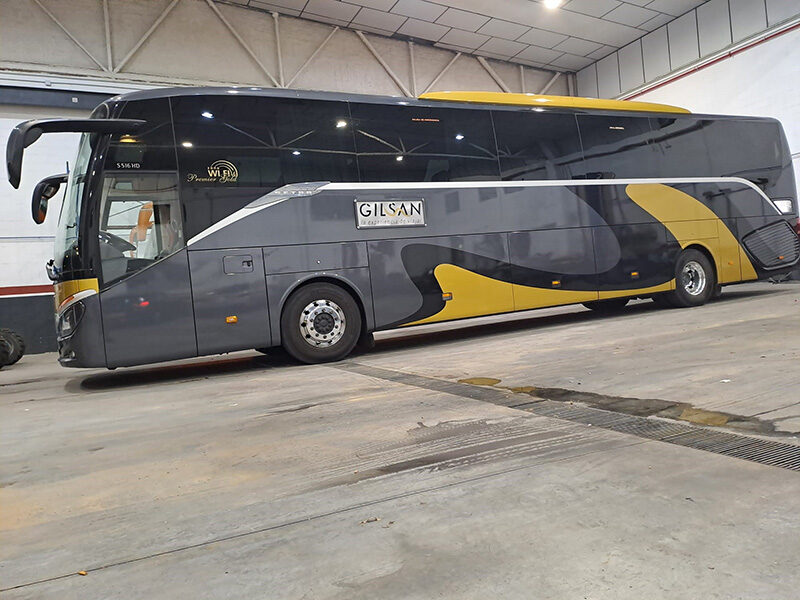 Our fleet
Our extensive fleet of buses at GilsanBus is the key to our transportation services. We are proud to offer a variety of vehicles to fit the specific needs of our customers. Whether you need transportation for a small meeting or a large corporate event, our buses provide a seamless experience for all passengers on board. From comfortable seats to modern amenities, our fleet is designed to provide passengers with a first-class experience. When you choose GilsanBus, you can be sure of reliable and effective transportation services.
At GilsanBus, we are aware of the importance of safety and comfort during trips. That's why we rigorously maintain and review our fleet to ensure optimal standards. Our buses are equipped with advanced safety features, such as updated braking systems and GPS tracking, to provide a safe ride for passengers. Additionally, our buses are designed with passenger comfort in mind, with air conditioning, luxury seating and on-board entertainment. By choosing GilsanBus, you can be sure of obtaining excellence in transportation services.
Our fleet of buses is not only impressive in its variety, but also in its versatility. We have a variety of buses, including luxury buses, minibuses and shuttle buses, to meet the individual needs of our customers. Whether you need transportation for a corporate event, a wedding, or a sightseeing excursion, we can accommodate any group size and any travel need. Our professional and experienced drivers will ensure a smooth and enjoyable trip, allowing you to focus on your activity or destination.
When you choose GilsanBus for your transportation needs, you can count on reliable and efficient services. Our fleet of well-maintained buses, combined with our team of professional drivers, ensures a smooth and enjoyable trip. We are dedicated to providing outstanding services that exceed our clients' expectations. Whatever your need, whether for a small group or a large event, our fleet of buses is ready to serve you. Trust GilsanBus for all your transportation services in Seville and beyond.
Expert Drivers
At GilsanBus, the pillar of our company is our team of first-class drivers. They are much more than just employees, highly trained to ensure safety, comfort and courtesy for all passengers. Our drivers have extensive knowledge of the roads in and around Seville, so you can trust them to carry out your MICE events accurately and quickly. Whether transferring delegates to conferences or arranging transportation for corporate events, our drivers are dedicated to providing exceptional service. Their professionalism and experience make them a valuable addition to our team, ensuring that your experience with us is excellent.
When it comes to organizing MICE events, having reliable and knowledgeable drivers is essential. At GilsanBus, our drivers are trained and experienced in handling various transportation needs. From navigating congested cityscapes to executing seamless transportation logistics, our drivers have the experience necessary to ensure an enjoyable and effortless experience for your participants. With their thoroughness and dedication to customer satisfaction, you can trust our expert drivers to provide the highest level of service during your event. Let them take the wheel and you can focus on providing an unforgettable experience for your guests.
Innovative Technologies for Transformative Tourism
The tourism industry is being revolutionized by cutting-edge technologies and GilsanBus is at the forefront of this change. We are dedicated to providing premium transportation solutions for MICE events and understand the value of using technology to enhance the travel experience. From simplified booking platforms to GPS tracking and real-time updates, we are taking advantage of these advancements to ensure our customers can enjoy a smooth and efficient journey. Our commitment to adopting innovative technologies allows us to stand out as leaders in the ever-changing world of transformative tourism.
GilsanBus makes the most of modern technology through our fleet of eco-friendly vehicles. Our buses are equipped with advanced features such as climate control systems, onboard Wi-Fi and USB charging ports, which enhance passenger comfort by keeping them connected and entertained. In addition, the safety of our customers is guaranteed by incorporating the latest safety technologies, such as collision detection systems and lane departure warnings. By combining innovative technology with a dedication to sustainability, we are helping to shape the future of transformative tourism.
In addition to our vehicles, GilsanBus also uses data analytics to optimize our services. We collect and analyze data from customer feedback and travel patterns to gain insight into our offerings. This data-driven approach allows us to adjust our routes and schedules according to the ever-changing needs and preferences of our customers. By using data analytics, we can provide efficient, customized transportation solutions that keep us ahead of the competition.
As we move forward, GilsanBus is exploring how emerging technologies can continue to transform the travel experience. We are integrating virtual reality and augmented reality into our tours, as well as implementing contactless payment systems, to offer our customers unique and immersive experiences. Our focus on innovative technologies allows us to remain at the forefront of transformative tourism and provide an unmatched transportation experience for travelers.
Conclusion
In conclusion, GilsanBus is the leading company for all your MICE needs in Seville. With a team of experts, led by the visionary Raúl Gil, they offer first-class services and an impressive fleet of buses. Their trained drivers ensure a safe and comfortable trip, while their innovative technologies enhance the overall tourist experience. Whether you are planning a conference, an incentive trip or an exhibition in Seville, GilsanBus will exceed your expectations. Trust Raúl Gil and his team to transform your event into a memorable and successful experience.